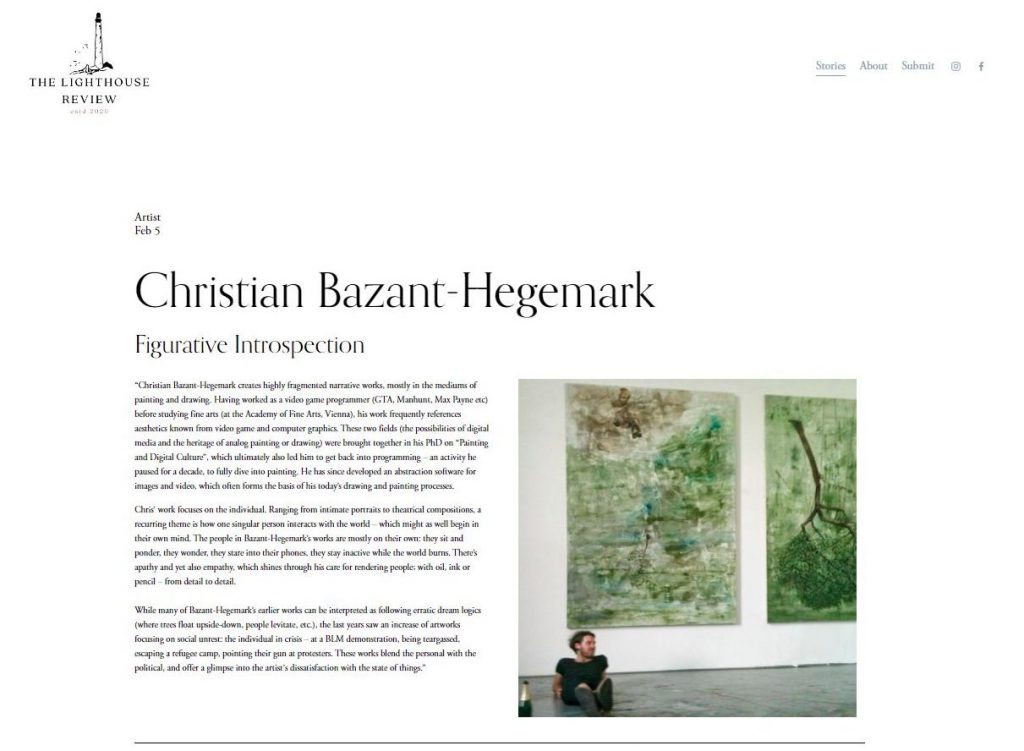 "Chris' work focuses on the individual. Ranging from intimate portraits to theatrical compositions, a recurring theme is how one singular person interacts with the world – which might as well begin in their own mind. The people in Bazant-Hegemark's works are mostly on their own: they sit and ponder, they wonder, they stare into their phones, they stay inactive while the world burns. There's apathy and yet also empathy, which shines through his care for rendering people; with oil, ink or pencil – from detail to detail."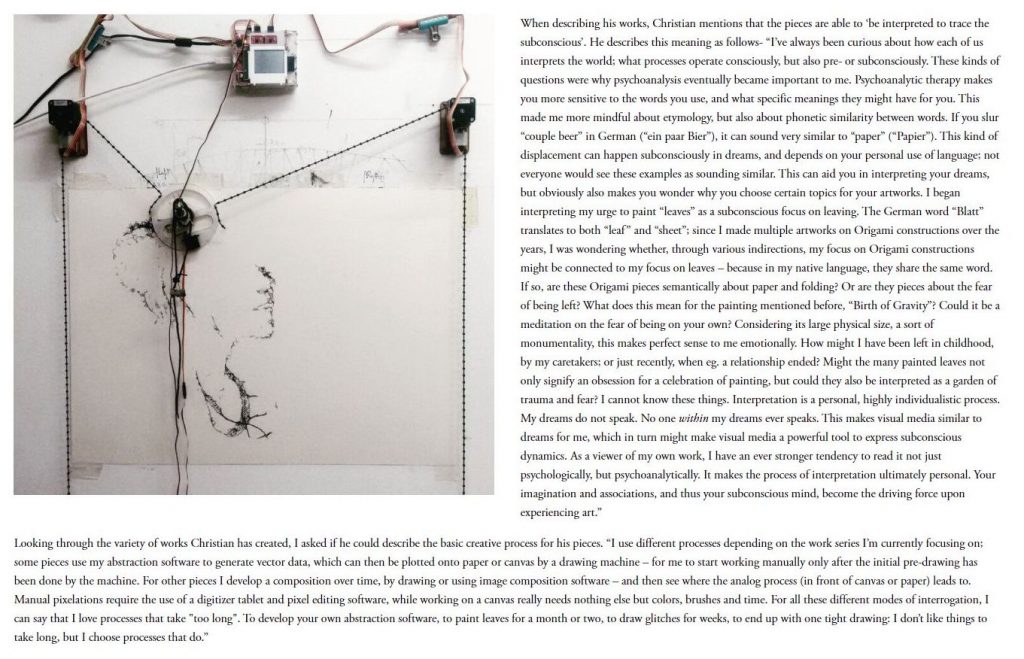 "I've always been curious about how each of us interprets the world; what processes operate consciously, but also pre- or subconsciously. These kinds of questions were why psychoanalysis eventually became important to me. Psychoanalytic therapy makes you more sensitive to the words you use, and what specific meanings they might have for you. This made me more mindful about etymology, but also about phonetic similarity between words. If you slur "couple beer" in German ("ein paar Bier"), it can sound very similar to "paper" ("Papier"). This kind of displacement can happen subconsciously in dreams, and depends on your personal use of language; not everyone would see these examples as sounding similar. This can aid you in interpreting your dreams, but obviously also makes you wonder why you choose certain topics for your artworks. I began interpreting my urge to paint "leaves" as a subconscious focus on leaving. The German word "Blatt" translates to both "leaf" and "sheet"; since I made multiple artworks on Origami constructions over the years, I was wondering whether, through various indirections, my focus on Origami constructions might be connected to my focus on leaves – because in my native language, they share the same word. If so, are these Origami pieces semantically about paper and folding? Or are they pieces about the fear of being left?
Browsing through Christian's work, one find themself taking in layers and layers of emotion, processing them as both an introspection and a glimpse into the thoughts and focus of figure, texture, color, the building blocks of a work. The themes and subject of the drawings and paintings are shown through visual storytelling, a narrative for the viewer to follow to digest situations, events, and ideals as seen through the marks of the maker expertly laced into each piece.